Mackoy is proud to announce its three-year partnership deal with Sholing Football Club and the unveiling of the newly-named Mackoy Stadium.
As of 9 August 2019, we are the main sponsors of Sholing Football club and its grounds. The new partnership will see Mackoy branding around the newly-named Mackoy Stadium until August 2022.
Sholing Chairman, Gerry Roberts, said: "This is a major coup for the Boatman to have a company of Mackoy's size and standing as our partners. We look forward to working closely with them as we continue to grow Sholing FC in our community."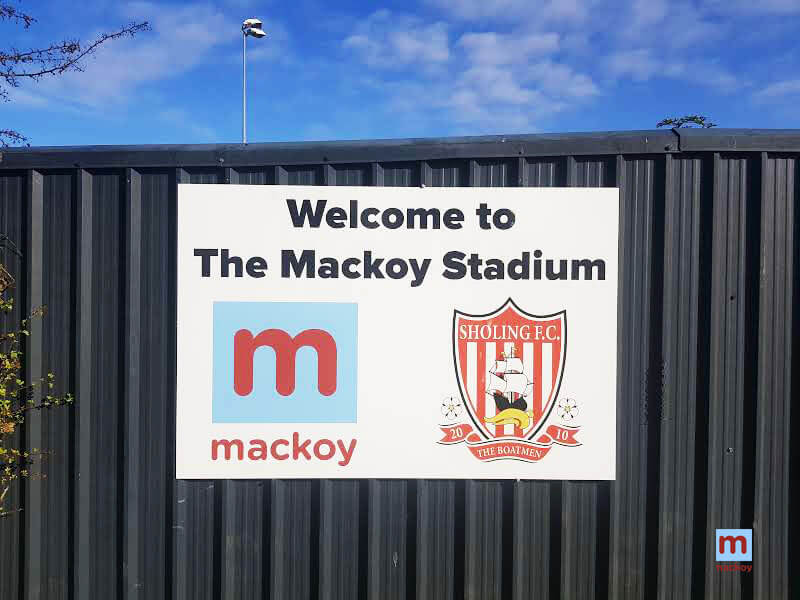 About Sholing Football Club
Known as the Boatmen, Sholing Football Club is a long-standing local team with links back to 1884. Previously named Vosper Thornycroft FC and Thornycrofts Woolston, the team took on the name Sholing FC in 2010 to reflect its closest areas. With this, Sholing took on its highly-recognisable red and white striped kit – well loved amongst football supporters in the city.
In the next few weeks, the club will see some changes to the grounds, with the brand new club house, delighting fans and players alike. This club house will be open to hold events and parties going forward, further strengthening Sholing FC's position as part of the community.
Mackoy's Community Work
We regularly give back to local communities, be that with extensive charity work and fundraising, community projects or supporting local football teams and companies – it's extremely important to us.
So, when the opportunity to sponsor Sholing FC came up, as a local business with a passion for helping communities, we jumped at the opportunity to support this home-grown football club.
Our Managing Director, Mike, adds: "We are proud to support these initiatives and Sholing FC is such a great club who put a lot into the players from the young ones just starting out to southern league division 1 south teams. We're really looking forward to seeing games being played and events being held at the Mackoy Stadium."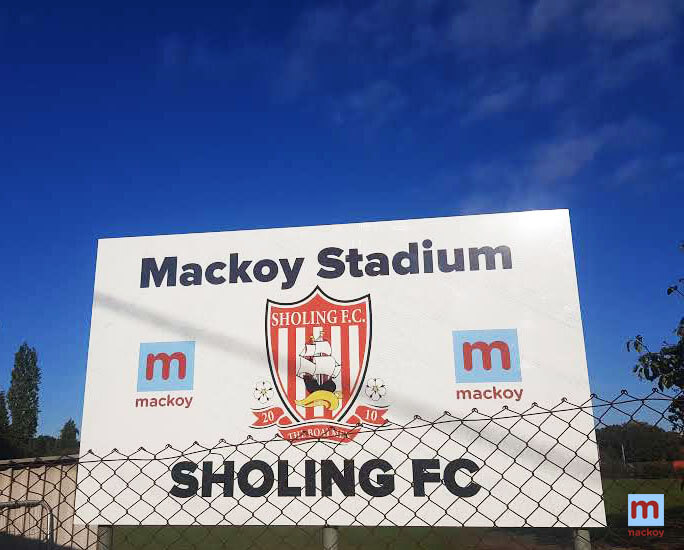 Visiting the Mackoy Stadium
As part of our sponsorship, we've got some branding throughout the grounds, from the Mackoy Stadium sign out front, to pitch-side banners, we love seeing everything come together when working on these types of partnerships.
If you're at one of Sholing's games and see our branding, let us know. It's hard to miss as we do a Mackoy takeover!
Find the Mackoy Stadium on Portsmouth Road, Southampton, SO19 9PW.
Up the Boatmen!
Read more about Mackoy's CSR and sponsorship work.