We kick the year off by looking at the great work that our teams are doing out on our construction sites: the Mackoy quarterly awards.
We give out awards for the Site Manager of the Month and Site of the Month, and the foremen and contracts managers get a cash prize as an incentive for continuing to work at a high standard.
The winners are chosen by SHEQ scores and performing well on health and safety; the Site Manager of the Month score is calculated purely on these SHEQ audit scores supplied to us by David Bacon, SHEQ Manager and Mathew Murray, our resident SHEQ Advisor. These scores come to us monthly and help us to continually keep our health and safety and quality protocol to a high standard; they're scored on QA systems, plant inspections and that their weekly reports and filled in correctly and submitted on time.
This last quarter has seen some extreme weather conditions with rain battering the south coast and so we've seen everyone step up their game to still deliver the contract to a high standard.
Site Manager of the Month Winners
We announce our monthly winners quarterly, so we start by going right back to October to look at the Site Manager of the Month and we're pleased to announce Graham (Geordie) Curtis has scooped the prize for his work on Quarter Jack Park in Wimborne for Barratt Homes. Geordie consistently scores highly for his work on this development – a scheme that we are really proud of. A big well done to you, Geordie; that's £500 for you too as a way of saying thank you!
Site Manager of the Month in November is Kevin Edinberry for Windroos, Littlehampton. The work on this site has been delivered to a really high standard and Dandara is also happy with the progress and quality. We're giving £500 to Kev for his consistent work on this great site. Thanks, Kev, keep it up!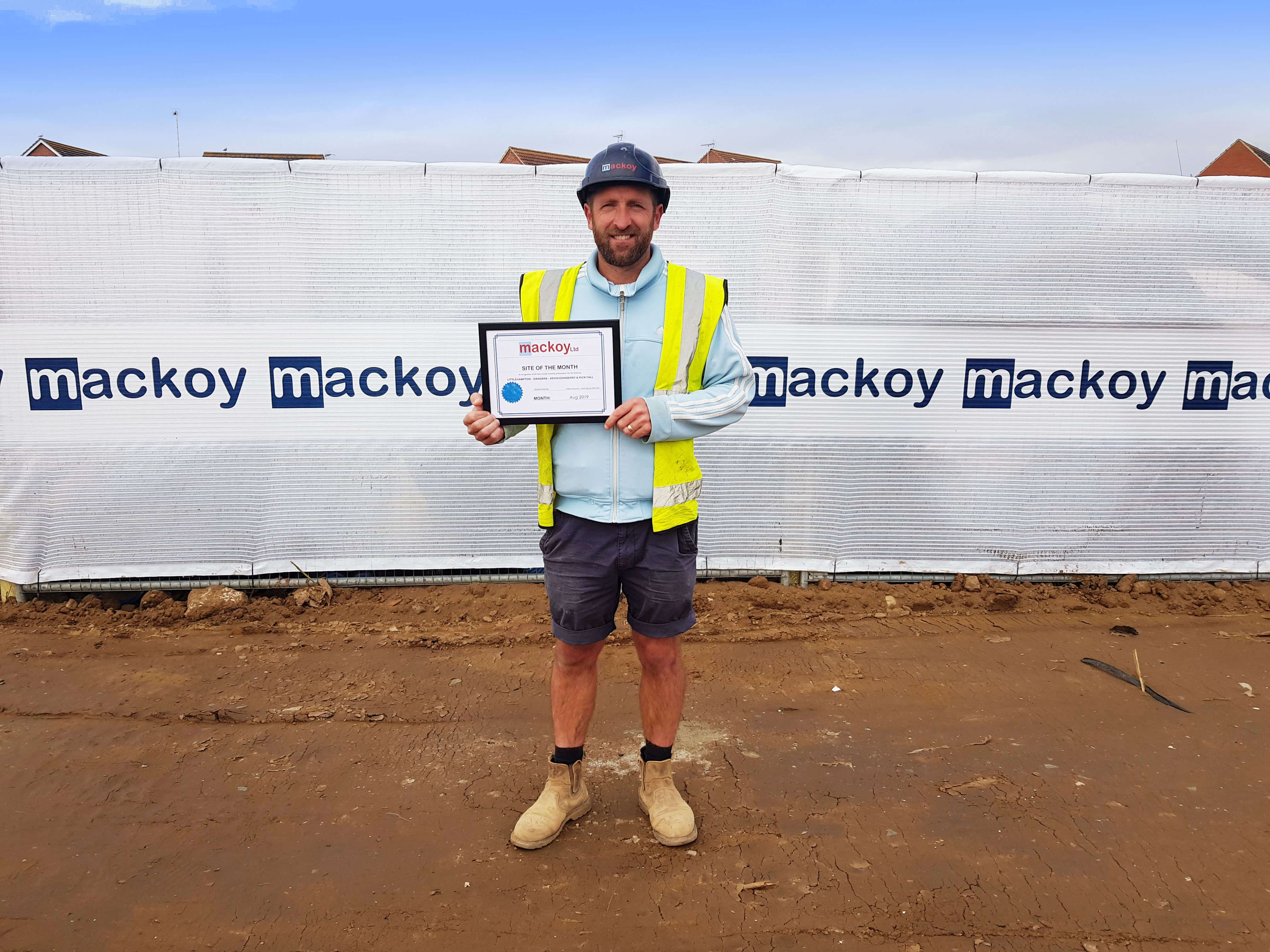 Winners of Mackoy's Site of the Month Award
Next up, we take a look at the Site of the Month winners. The winners of these awards are decided by a few things; a high-scoring SHEQ score, productivity and circumstances - this particular award is usually given at the directors' discretion following regular site visits and feedback, including feedback from our clients.
For October, our winner is Mok Rahman. Mok was tasked with a very challenging site and he not only took it on with a tenacious attitude, he's also completely turned the site around, improving the quality and deliverables. Something that certainly needs rewarding. That's £250 to you and to Rick Fall and a huge thank you for the work that has gone into this site.
November sees Shane Wheeler win Site of the Month for his work on both our Thornhill site for Hampshire Homes, and his work on a concrete job in Westhampnett. Shane works exceptionally well with sticking to programmes despite some setbacks. Thanks for all of your hard work – enjoy to the £250, to both Shane and Mike Beare.
Creating a Slogan for the Mackoy Brand
As well as these awards, we also asked internally if anyone wanted to come up with a slogan for us to help develop the brand ethos and to create an all-encompassing message that showcases what we are about.
We're more than just digging holes and putting in foundations, we help our clients' visions become a reality and we put everything in for the housebuilders to take the baton and build a new community.
With that in mind, we're going with: Mackoy – We do the groundwork.
It's short and simple, but we think it illustrates the work we do perfectly. We lay the groundwork for the housebuilders, for the homeowners, for the future of the local community. We do the prep work and without it, well, the rest just wouldn't happen.
A special thanks to Sam Bowers for his input with this.
Find out more about our site investigations and how we take the scores for our award wins.