From endorsements of our quality workmanship, to recognition of the stringent health and safety procedures we put into effect on each of our clients' work sites, you only have to scroll down to the Accreditations entries on our website's homepage, to see the many industry accolades and awards we've won at Mackoy Ltd.
But it isn't just our overall groundworks operation that's championed by the leading trade organisations within the construction sector. Each of our operatives is also individually accredited and qualified for the job they're contracted to carry out. Whether that's driving one of our closed-cab dumpers or other powerful excavation plant, to laying the drainage infrastructure or setting out the foundations for a brand new residential home. Every Mackoy operative working our groundworks contracts is professionally trained for their respective role, and carries the necessary industry certifications to prove it.
It's one of the first things we look for when we're advertising for new groundworks operatives to join our gangs. We won't even consider hiring anyone who doesn't hold the required accreditations and the paperwork to back up their claims. As a result, within our entire network of more than 300 skilled groundworks operatives we engage to fulfil our groundworks contracts at Mackoy Ltd, every single one is CSCS or CPCS verified - and required to present their card on arrival at site each morning in order to gain entry and be permitted to work.
This is just one of the ways we challenge the experience, training and skills of everyone that applies to be part of our groundworks gangs at Mackoy Ltd, in order to consistently keep workplace standards high amongst our team. In fact, in our commitment to only contracting the best resource and groundworks talent to work on our clients' developments, we also pair up every new starter with an experienced groundworks operative in our gangs, to ensure that every member of our team is following the practises and procedures we set out in our Mackoy Good Practice Guide. Together with investing in new plant and training for our groundworkers, to keep our team's knowledge and capability consistently high.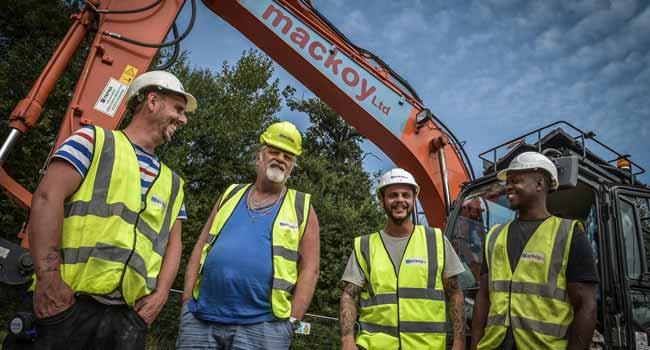 So what exactly is CSCS? And why is it a prerequisite of anyone who wants to become part of our Mackoy groundworks team?
Well, CSCS stands for Construction Skills Certification Scheme, and it's regarded as the leading construction industry training association, which is why an accreditation from CSCS is universally held in such high esteem. Not only by our Mackoy Leadership team, but also industry-wide, throughout the groundworks and civil engineering sector, together with other branches of the construction world.
Every individual that successfully qualifies in their respective trade under the Construction Skills Certification Scheme is awarded a personalised CSCS card, which acts as evidence of their training. And while it's not a mandatory requirement of anyone working in construction to complete this training, the majority of UK house builders, and principal contractors, now insist on CSCS accreditation for those participating on their projects. Which is one of the primary reasons that we at Mackoy Ltd won't take on any groundworker who hasn't been through the scheme.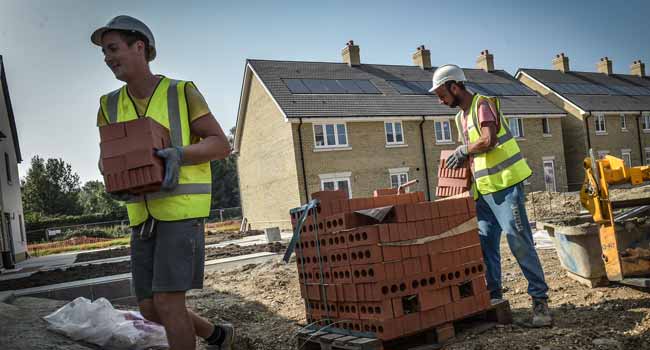 But CSCS isn't the only industry accreditation we look for in the operatives who apply to become part of our groundworks team. If you're responsible for driving any of our specialised excavation plant we also require a qualification from CPCS, a partner scheme of CSCS, which exclusively deals in training for plant operatives.
CPCS cards appear very similar to those issued by CSCS, and even bear both organisations' logos, which is just one of the ways their validity and authenticity can be proven. But whereas CSCS deals exclusively with training in construction processes such as groundworks, CPCS is solely geared towards those training to operate plant on a construction worksite. Which is precisely why the nature of specialised training is fundamental for anyone hoping to become a dumper driver, HGV operator or excavation plant handler on one of our clients' multi-million pound builds.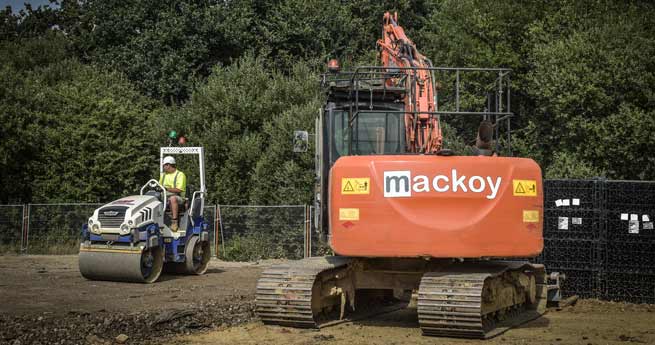 Along with our CSCS and CPCS compliance, Mackoy Ltd also holds a number of other construction industry-issued accreditations to our name - another reason why the UK's leading residential developers frequently re-contract our services, and entrust their groundworks to us.
Like our clients Persimmon, Redrow and Bloor Homes, Mackoy is endorsed for our Health & Safety excellence by SMAS, a member of the SSIP (Safety Schemes in Procurement). Not only does our certification demonstrate that we've met the core criteria to be granted SSIP contractor status, it also verifies that our work, and our audit procedures, are indicative of the highest achievable industry safety standards. A position that's further strengthened through our accreditations from Safemark, CQMS and Chas, all of whom also champion best practice in construction health & safety.
By the same token, our workmanship is also endorsed by the NHBC - the UK's leading insurance and warranty provider for new build homes. As a company that prides itself on protecting consumers, and spearheading housing policy practices, the NHBC reserves its endorsement purely for those organisations operating at the highest levels of quality. Aligning their brand exclusively with those whose operating standards and workmanship meet the technical ability and compliance that is fundamental to NHBC guidelines - for which we are proud to qualify. In fact, we were even awarded an NHBC Pride in The Job Award in 2018; such is the exceptional quality of our groundworks infrastructure, and the capability of our operatives working on site day-to-day.
In fact, it's testament to our team that we started our own in-house Awards at Mackoy Ltd, designed to recognise and reward the breadth of talent on our groundworks gangs. These in-house Awards take place on a monthly basis and reward the winners with a cash prize, consisting of £500, £250 or £100 respectively, depending on whether the win is for Site Manager of The Month, Site of The Month or our monthly Quality Photo Competition.
While the Site of The Month and Site Manager of The Month awards are largely influenced by our SHEQ team's monthly site inspection scores, the photography award is given to the person (or persons) who send in the best example of quality workmanship captured on our worksites. This can be anything from our team installing internal drainage runs, to removing a topsoil layer during a site's excavation stage, and we encourage our entire network of on site operatives to enter.
These internal Awards initiatives are just one of the ways we strive to make Mackoy a great company to be a part of for the operatives who join our gangs. Together with these incentives we also invest in regular training for our team, and the latest high-specification plant, to ensure our groundworkers always have the safest equipment to work with, while also minimising our environmental footprint wherever possible. We also regularly offer our time and resource to support local community projects and causes in our native Hampshire, as well as the surrounding regions we service with our groundworks offer. You can read more about our involvement with these causes on our CSR page, as well as by following us on Facebook and LinkedIn.
Categories: Health and Safety