We've had a long working relationship with the Highwood Group at Mackoy, having teamed up with the developer at the start of last year for their North Stoneham Park build in Eastleigh, Hampshire. A £5.5 million contract to deliver the groundworks infrastructure for 120 new homes on the site, with works due to wrap up early next year.
It's been a great contract for Mackoy, giving us a chance to engage in some of our core groundworks and civil engineering services. While also working in one of the most picturesque developments our team have ever set foot on – and one of the biggest. Based as it is within a stunning historic deer park that spans 120-acres with roots dating back to Saxon times. Not the kind of site you get contracted to work on everyday let us tell you.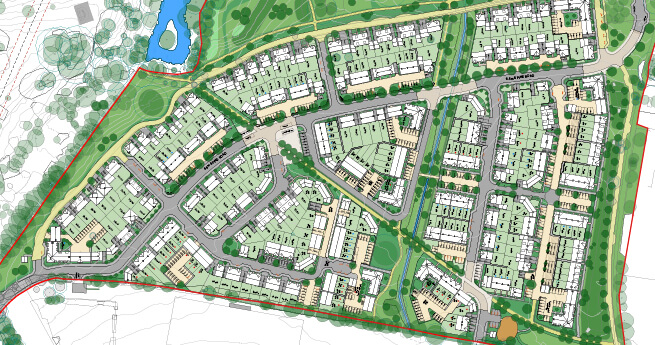 While our groundworkers didn't unearth any ancient artefacts during excavations (honest), Highwood recently added to their trophy cabinet with a win for the site in the 2018 South Coast Property Awards. North Stoneham Park in Eastleigh won the gong for Development of The Year in the Large Residential category sponsored by Trethowans. With Highwood Group also scooping Fast Rising Property Business of The Year in a separate award on the night. Making it a double win for the developer in the gala ceremony held at the Ageas Bowl, Hampshire, on 19th July 2018.
Highwood Group Land & Sales Director Simon Beech has extended his personal praise and gratitude to the team involved in the North Stoneham Park development. All of whom he regards as being instrumental to the developer's award win in the Large Residential category. Hailing the project as "one of the South Coast's most iconic property developments in many years" and extending his thanks "to the teams of property professionals we've partnered with who have ensured the park has remained true to our philosophy."
For Mackoy, it's these kinds of game-changing groundworks contracts that we really relish being involved in. And it gives us immense satisfaction to know that the work we've carried out for Highwood at North Stoneham Park is being recognised by the wider property industry, in such a prestigious and high profile way.
By the time of its completion, North Stoneham Park will introduce over 1000 new homes in Eastleigh. Reinvigorate a centuries old park; create new recreational areas and a school, as well as a care home within the community. All while sensitively preserving the beauty and natural habitat of its deer park location in a sustainable and innovative footprint.
For our part in the project we've provided a full groundworks infrastructure package to 120 residential units on the development, as well as developing the main roads throughout the entire site. From excavating the trenches for the foundations of each new home, to creating the underground infrastructure for live services to sit in. These are just a handful of the groundworks and civil engineering feats we're capable of at Mackoy Ltd. Delivered with quality control, safe practice and innovative plant and equipment. Allowing us to get the job done faster, better and safer.
Like Mackoy, Highwood is a privately founded company that believes in the benchmarks of quality design and construction. Although they've been around for over 30 years (an edge over our 7), we couldn't be more aligned in our joint approach to the delivery of large-scale building projects. As well as the expertise we've cultivated in our respective in-house teams.
In fact, Highwood's founding three directors are still involved in day-to-day business operations in just the same way that our own founder and owner Mike remains active in his role as MD of Mackoy too. We even operate within the same catchment vicinities. With Highwood projects taking place in locations across Hampshire and Dorset, just two of the five core regions where Mackoy groundworks and civil engineering also have a strong foothold. With Berkshire, Surrey and Sussex being our other main remits in the South of England.
As it happens Highwood isn't the only award-winning developer we've had the privilege and pleasure of working with either. Another of our clients Wyatt Homes (who we're currently on site for in Luzborough) were this year awarded House Builder of the Year in the 2018 South Coast Property Awards. Just going to demonstrate that Mackoy are the leading groundworks supplier of choice for the South's premier property developers and house builders.
In fact, our residency with the Highwood Group in North Stoneham Park is about to extend to two further phases of the development. As Highwood have once again contracted Mackoy groundworks to complete essential groundworks infrastructure for the next two stages of the development. So we look forward to extending our time on site, and being instrumental to the development of this sustainable and exciting new community in Eastleigh.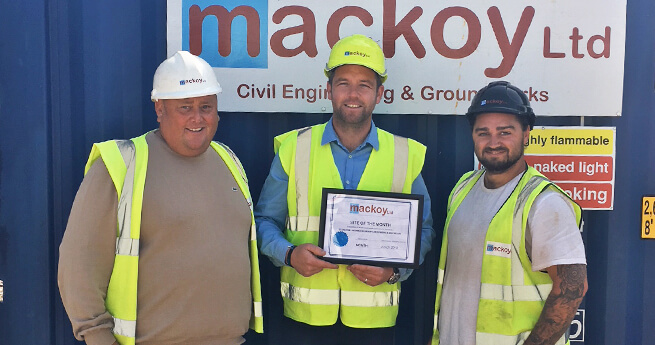 For more details of the types of groundworks services we offer at Mackoy, take a look at our services page. Or to see the latest additions to our team, plant and contracts, follow Mackoy Ltd on Facebook and LinkedIn.
Categories: Highwood Group