Only days into 2019, our groundworks operatives are already hard at work helping to bring 34 new residential homes to Hampshire for Bellway Wessex, in a groundworks contract worth £1.6 million, awarded to us in 2018.
Initial earthworks to prepare the site for development were conducted in the days leading up to Christmas, with all the levelling and site strip now completed and the New Year now marking the start of piling works for the 2, 3 and 4 bedroom homes planned on site.
The development is taking place on a 2.39-acre plot East of Knowle Lane in Fair Oak, a large village located near to the Hampshire towns of Southampton and Winchester, just on the outskirts of Eastleigh. The location isn't far from where our groundworks operatives are also hard at work for Highwood on their North Stoneham Park development, a project that was awarded Large Residential Development of The Year at the South Coast Property Awards, and the proximity between the two developments works well for us in terms of resourcing and monitoring.
In total private housing will account for 30,643 square foot of the total plot size, once development is complete, with our groundworkers' time on site scheduled to last for approximately four months to complete the groundworks to oversites stage. We'll then return to site again in month seven, once the 34 plots are built.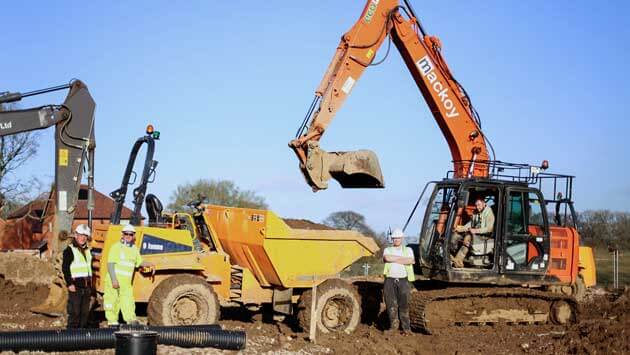 As well as creating the foundations that will give life to each individual new property on the development, our operatives will also be responsible for creating the underground infrastructure to supply water to each new Bellway home, and manage the flow of wastewater from the properties. This will involve digging out the trenches for water mains and drains, as well as laying the pipes that will support this essential modern infrastructure, a key part of the groundworks services we supply residential house builders as part of our groundworks remit at Mackoy.
Not everything we're contracted to undertake for Bellway in Fair Oak will be taking place below ground however. Besides our extensive excavation and substructure work our operatives will also be creating the connecting roads to help new homeowners navigate the community and bridge the development to existing public highways. In addition, we'll also be applying our soft and hard landscaping skills to help cultivate new green spaces on site, as well as ensuring each home's driveway is expertly laid, according to the criteria of Bellway's approved plans.
The provision for green spaces on site will help the new development, which Bellway has named Pasture Walk, to blend in brilliantly with its countryside surroundings, while each new home will be mindfully designed with character details that will lend the properties instant curb appeal. The Fair Oak location will be a further draw for potential buyers, owing to its close proximity to Southampton and Winchester for commuters, and the range of convenient local amenities on offer just a stone's throw from the site.
The groundworks contract marks more than 20 occasions that Mackoy has partnered with Bellway to deliver groundworks infrastructure in recent years, having established a longstanding working relationship with the developer since we launched in 2011. This began with Bellway awarding us a £750,000 contract to develop 24 residential plots in Stubbington, which we won not even a year into our groundworks operations. Little did we know then that this would mark the beginning of multiple developments we'd be contracted to work on for Bellway in the UK.
Only last year we provided the resource to create the entire groundworks infrastructure for another Bellway development taking place within Hampshire, in the market town of Emsworth. Called The Haven, the £7 million contract saw us wholly responsible for the groundworks for 125 new 2,3 and 4 bed homes on site as well as all supporting underground infrastructure. Prior to this appointment, Bellway also contracted us on developments in Ferndown, Dorset, and Oxlease in Romsey, and we're pleased to be partnering with the developer's Wessex Division once again in Fair Oak on another significant new residential housing development taking place in the South of England.
This nature of residential groundworks development is just one aspect of our scope of services at Mackoy Ltd. Our resource, including over 150 of the most powerful plant, makes us the ideal groundworks partner for commercial and civil contracts taking place throughout England too. To speak to a member of our groundworks team about our experience and capabilities, contact us via the Contact page on our website. Or, for examples of similar sized builds we've undertaken for private housing developers including Redrow, Barratt and Wyatt, take a look at our Projects page for more information.
Categories: New Contracts , Bellway Wessex