We've started 2019 in much the same way we exited 2018, hard at work on multiple groundworks contracts for our house builder clients. But before we bid farewell to last year and all the great things we achieved at Mackoy Ltd, there's one last piece of business we need to put to bed - announcing the winners of our November and December operative awards.
The Christmas break gave us the perfect time to reflect on the achievements of our groundworks team over the final two months of 2018, as well as to catch up on all the site audit scores awarded by our SHEQ duo David and Mathew. As our clients and our Mackoy groundworks operatives know, these site inspections form a key part of how we monitor progress and adherence to health, safety and quality on our worksites. So when it comes to deciding which of our sites and operatives should be crowned Site Manager, and Site of The Month, we always take our SHEQ team's findings into account.
With that in mind, we're delighted to reveal that November's Site of The Month Award goes to Nick Finn and Mike Beare for North Stoneham Park, our contract in Eastleigh, Southampton, with the Highwood Group.
Our work on site recently entered the second of the phases Mackoy has been contracted for at the 120-acre plot, which is set to deliver 1100 new residential homes in a historic deer park, once construction is complete. Before Christmas our team on site had to push hard to ensure the external works were completed in plenty of time for the first wave of North Stoneham Park residents to move in and as always our groundworks team, under the direction of Nick and Mike, pulled it out of the bag. In fact, Highwood was so impressed with the efficiency and steadfastness of our work to bring these first phase of units to completion, they didn't hesitate in awarding us the groundworks contract for the next phase of 120 houses on the development.
So brilliant work to all on site, and a great result all-round at North Stoneham Park - our Mackoy November Site of The Month. Nick Finn and Mike Beare give yourselves a well deserved pat on the back, and enjoy the £250 heading your way for all your efforts in making the site look fantastic, and the Highwood Group a very happy client.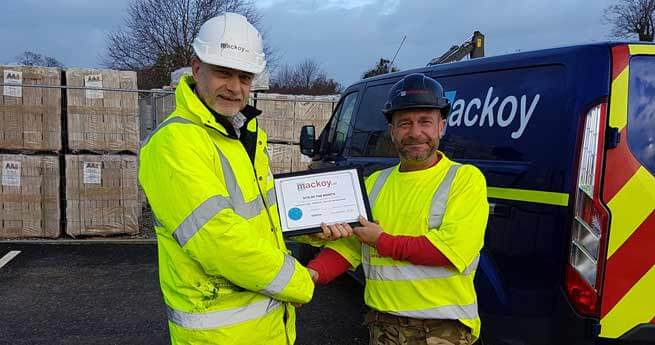 As to the winner of November's Site Manager Award, this goes out to none other than Paul Weaving (or Tonbag as he's affectionately referred to by our operatives on site). Paul is the Site Manager for Mackoy on our £5.5 million groundworks contract in Whitchurch, on behalf of another of our residential homebuilder clients, Barratt David Wilson. The scheme, commercially called Mill Springs, will welcome 100 new homes to the site once complete and Paul has been a driving force in meeting our targets and deadlines since we took occupancy on site for those initial earthworks, more than 12 months ago.
Paul's audit and performance scores at Whitchurch have been consistently high throughout his tenure on the Winchester Road site, and his management has been instrumental in keeping build times on track throughout the lifespan of the Barratt David Wilson project. But it's not just our client who has been suitably impressed by Paul, and our entire team's workmanship on the development, the NHBC have also endorsed the high quality standards demonstrated by our team, particularly in the domestic drainage infrastructure we installed to service the properties.
So congratulations Tonbag, and everyone on site that helped Whitchurch progress to target over the past year. Like Barratt David Wilson and the NHBC, we couldn't be happier with the skill, professionalism and quality output of our groundworks team. Paul, your £500 Site Manager Award win is very much deserved and we know the whole team is behind you on that.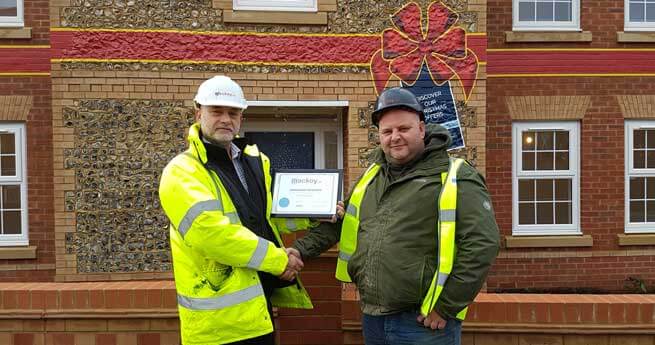 So, without further delay, let's get into our most recent round of Award winners, our December Site and Site Manager of The Month recipients. We had a tough time deciding between our groundworks projects in December, but we eventually whittled it down to one development and two worthy winners: Rick Fall and Joey Weightman for their work on our Emsworth contract for Bellway Homes Wessex.
The £7 million groundworks contract which kicked off in 2018, calls for us to deliver full groundworks infrastructure for 125 new Bellway homes, a development the client is naming The Haven. Both Rick and Joey have kept a cool head and their calm throughout an intense pre-Christmas period which saw us implement a programme of Section 278 works at the site. Over the course of twelve weeks, both boys did a commendable job in ensuring the works completed to deadline, expertly manoeuvring around unexpected hurdles that threatened to hold up progress. Thankfully, no issue was too big for Rick and Joey to handle and the works wrapped up before the festive break, just as Bellway wanted - an incredible feat given the timeframe. So well done Rick and Joey, £250 each is heading your way.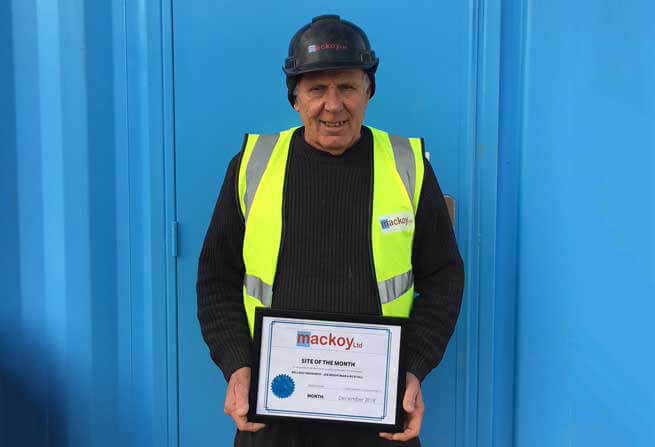 Moving on to December's Site Manager of The Month Award, and this deserved achievement goes to Terry King, Site Manager of our Luzborough development for Wyatt Homes.
Terry's been with Mackoy a while now, but previously worked beneath Gary Wild. Now a Site Manager in his own right, Terry's been doing everything exactly by the book to a T, honouring all of the processes and procedures we set out in our Good Practice Guide to the detail. His efforts are reflected in his exceptional SHEQ site scores, as well as the quality of his own weekly progress reports, which we look forward to reading. Terry, what can we say except you're a credit to Mackoy and our Site Management team. Please accept £500 and our December Site Manager of The Month Award for all your hard work and unrelenting enthusiasm.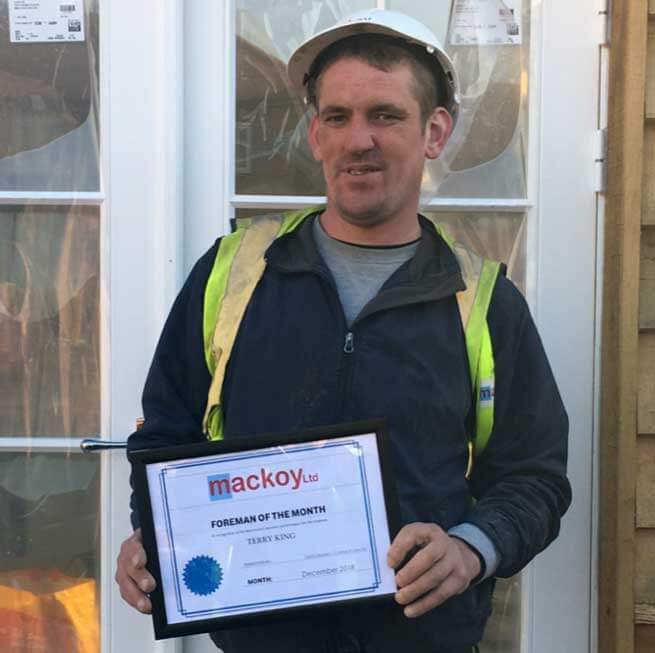 Last, but by no means least, we'd like to reveal the winner of our Quality Photo Competition, an initiative we run for all our operatives here at Mackoy Ltd to celebrate the excellent standard of work produced by our team on site. The winner for December goes out to Shane Wheeler who's been inundating our quality@mackoy.co.uk inbox with images from our groundworks build for Redrow in Bracknell.
Of all the images Shane took the trouble to capture on site and email in, our favourite by far was this one showing one of our Mackoy mini diggers, setting out in a courtyard, which also demonstrates good practice on manhole lids. You can also see some more livery on machines and containers in the background of the shot, and the landscape image works brilliantly well at giving a wider perspective of the site. So congratulations Shane, our star photographer of the month. £100 is heading your way for this fantastic shot, showcasing the great quality the team is achieving for Redrow on site.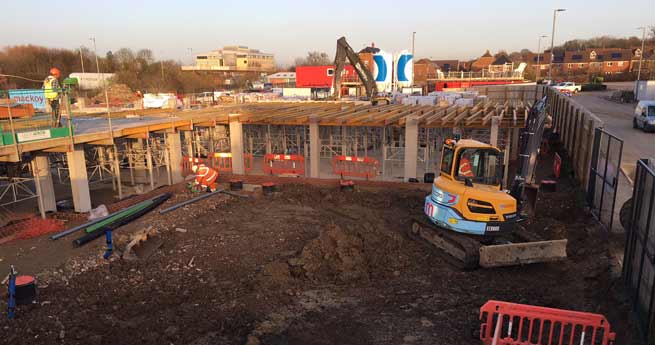 Speaking of good practice and great quality (as we often do at Mackoy), we'd also like to mention an NHBC Pride in the Job award we received in November, awarded to us by Bellway. As anyone in the construction industry knows, an NHBC Pride in the Job Award is one of the most prestigious honours a Site Manager can be awarded, so it goes without saying that we were overjoyed to have our team's work endorsed by this highest of quality standards. So thank you to both the NHBC who generated the Award, and Bellway who presented us with it, to be one of the few recipients of such an incredible industry accolade is an honour we don't take lightly.
You can read more about the developments we've highlighted throughout this Awards post, on our Mackoy Projects Page. Or, to keep up with our latest news and announcements, follow Mackoy Ltd on our official LinkedIn and Facebook pages, where we also frequently announce new groundworks job openings we have available on our South Coast groundworks team.
Categories: Photo of the Month , Site of the Month